Our Rooms
Enjoy all of the comforts and amenities of home during your stay at Avery on Prospect Hill! Each morning, Candy carefully prepares a delicious breakfast for each of our guests. Coffee, tea, treats, and an afternoon snack are also available daily at the "Candy Bar". While you're at home at the Avery, relax in one of our many sitting areas, on our cozy back porch, or in our charming garden gazebo. We have a variety of DVDs, board games, and books to pass the time. If your goal is to relax, you'll love our quiet, serene home.
We have a variety of different room styles in each of our six guest rooms. King or Queen-size beds are both available, as well as additional sleeping space in the form of a pull out love seat in our Carla Ann room. Each room has its own private full bathroom, stocked with all of the essentials, including bathrobes, air conditioning, and in-room TV/DVD. Complimentary WiFi is also provided for all of our guests. If you're staying in for the night, you can choose from a selection of movies, provided in our upstairs sitting room.
Only children 12 years and older are welcome at the Avery as a courtesy to our other guests. Please let us know if you have any special requests, accommodations, or dietary requirements. upon booking your reservation Feel free to send us a message if you have any questions. We hope you have a fabulous stay with us at Avery on Prospect Hill!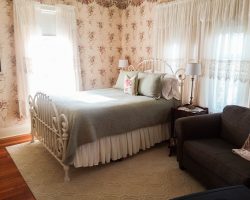 price starting at $130.00 per night
This vintage feeling room faces the Galena River with the warmth of the morning sun. It features a comfy queen size iron bed, along with a private bath and shower.  The room offers a twin-size sofa sleeper for that extra guest, allowing the room to sleep three.
---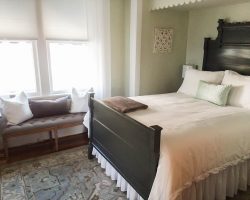 price starting at $135.00 per night
This beautiful and serene room is in the front of the Inn. It features a queen size bed and a quiet separate nook with a window seat. The private bath provides an original claw foot tub and shower unit.  It feels fresh and peaceful.